Add Just It - self adhesive shims
Use Add Just It in all types of installations such as Windows, Doors, Kitchen interiors Bathrooms and Floors. You will save time and money and the results will be straight and exact. If needed you can easily bend, cut and nail or screw through the shims.
The pieces are self-adhesive and are delivered in blocks consisting of 13 shims in each block. The thickness of the shims vary between 1 mm, 2 mm and 3 mm and each shim has its own color separated by a black shim of the same thickness.
The black colored shims are there to assist you in optically measuring the number of shims needed for each application, thus eliminating the use of a measuring device.
Add Just It blocks are made of polystyrene which is climate sustainable, even for the harsh Nordic conditions.
Add Just It also functions as a moisture barrier between cement, stone and wood in foundations and in window installation.
About the company
7stera AB was founded 2010 with the goal of developing a product which main objective was to save time and money within the building and construction industry. The founder and CEO developed a simple and effective product named Add Just It.
After studying the extensive and unnessesary long time professional builders used sawing masonite plywood, etc for use as shims in all types of mounting and installation the idea of Add Just It was born.
Save time and money!
To save time and money (same thing) is of course interesting for the project manager of a large building project as well as for the private home owner working on smaller projects
EXAMPEL (SWEDEN)
A carpenter costs approximately 450 SEK per hour (EUROS 52.5)
Divide 450 SEK per hour by 60 minutes = approximately 7 SEK per minute. (EUROS 0.81)
It's not economically defensible for a building company or the private homeowner to pay 7 SEK per minute for a qualified carpenter to waste valuable time in sawing and fitting different pieces of Masonite, wood every time he has to adjust something.
QUOTE FROM BERT:
"In respect to the fact that we put people on the moon over 40 years ago. It's not reasonable that we are still mounting and installing door, windows etc. as we've been doing for 300 years."

How to use Add Just It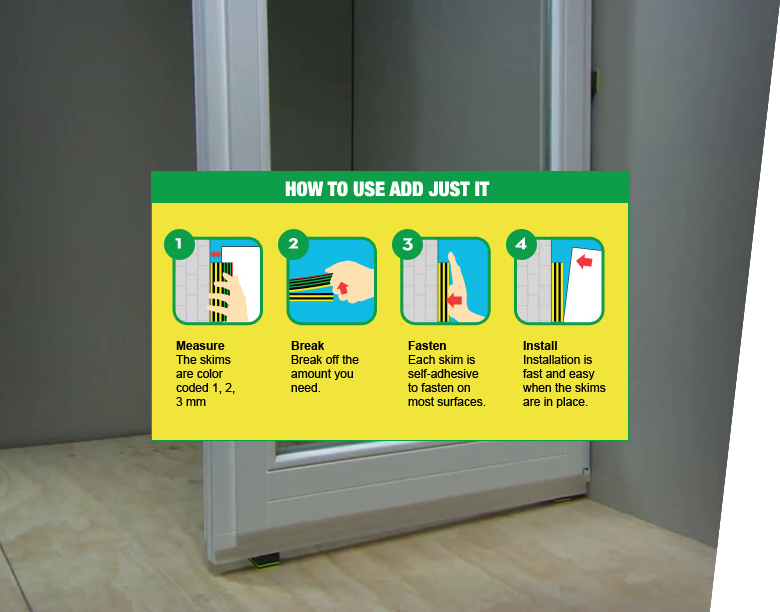 Instead of nailing or screwing through pieces of masonite or wood as most people do today when installing something against a vertical surface, you can with Add Just It save time and money by eliminating cutting, measuring and fastening of various materials.
The Add Just It shims ar 4×8 cm and fit perfectly on standard wall and floor studs which are 45×95 cm.
Every other shim in each block is black to enable you to use the block as a measuring device thus saving time. The different colors show the thickness of the shims.
Each shims is self-adhesive, so they stay in place during the installation phase and you avoid the irritating work of mounting and remounting to get the adjustment right.
Add Just It IS SUPER EASY TO USE!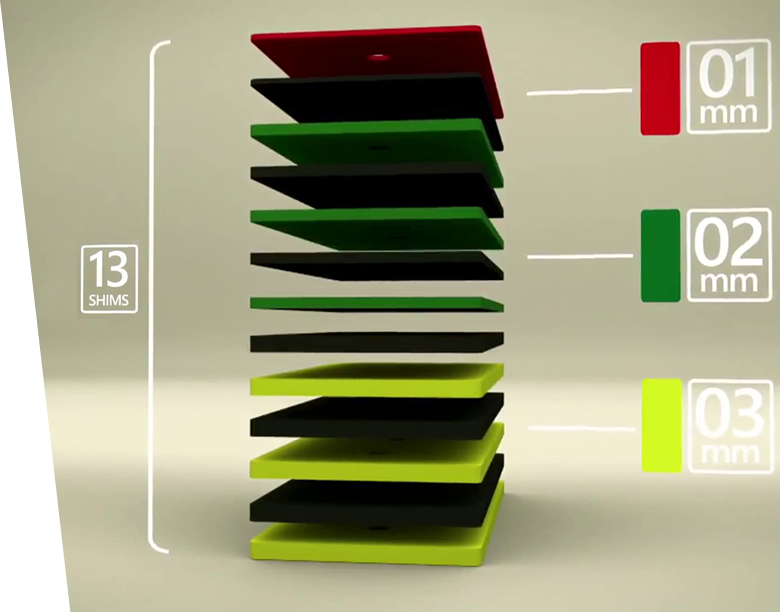 Technical Info
Add Just It attaches easily to most surfaces such as tile, plaster, masonite, wood and plastic. The pieces also work as a moisture barrier for all types of installations.
Each piece is color-coded to simplify the measurement of consumption.
Combine the pieces in order to achieve the desired size. The pieces are reusable and made of recycled polystyrene and is climate persisted, even at Nordic conditions.
The blocks consist of 2 x 1.0 mm,5 x 2 mm and 6 x 3 mm pieces. So the shims can be accommodated within a standard stud of 45 x 95 mm the blocks ' dimensions are L 80 mm, B 40 mm.
| Property | Mechanical properties | Unit | PS |
| --- | --- | --- | --- |
| Density | DIN 53479 | g/cm3 | 1,05 |
| Tensile Strength | DIN 53455 | N/mm2 | 23-30 |
| Flexural Strength | DIN 53452 | N/mm2 | 40 |
| E-module | DIN 53457 | N/mm2 | 2000 |
| Elongation At Break | DIN 53455 | % | 25-60 |
| Impact Strength | DIN 53453 | kj/m2 | 100 |
| Skårslagseghet | DIN 53453 | kj/m2 | 11 |
| Kulhårdhet | DIN 53456 | N/mm2 | 80 |
| Mostiure uppt. 24 h (in water) | ASTM D570 | % |  0,1 |
Property
Thermal properties
Unit
PS
Operation Temp.
Continuous
°C
65
Constant use temp
°C
90
Stretchkoefficient
°C
55
| Property | Electrical properties | Unit | PS |
| --- | --- | --- | --- |
| Impact Strength |  DIN 53481 | kV/mm | 20 |
| Dielektricitetstal, 1MHz |  ASTM D150 | | 2,5 |
| Dielektricitetstal, 50MHz |  ASTM D151 | | 2,4 |
SWEDEN
Head office
7stera AB
Kopparbovägen 29
618 92 Kolmården
Sweden
Phone: +46 11 39 51 39
Mobile: +46 70 650 65 32
E-mail: 7stera@gmail.com